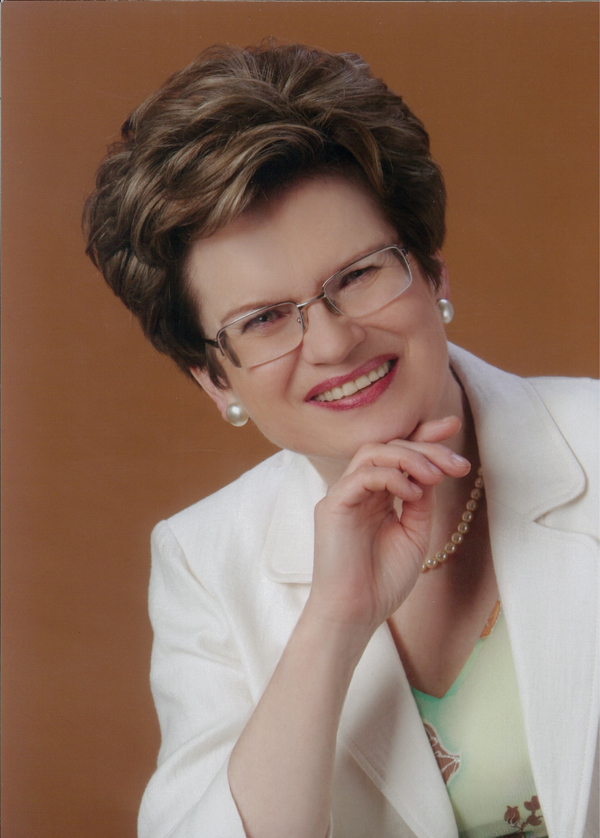 Concert pianist, professor of piano, juror of piano competitions. Throughout her life music has been the central focus and inspiration. Conveying its inherent contents and emotions she considers her life mission fulfilled by performing and teaching. Maria Szraiber is also interested in various questions concerning both the composer's work and its interpretation potential in the field of the piano literature as well as in the history of piano playing. She also devotes some of her time to the matters of the teaching process organization at the different levels of music education.
Born in Silesia Maria Szraiber there began the piano education leading her to the graduation from the Music Academy in Katowice.
Her teachers were: Wanda Chmielowska, heir of the famous piano school of T. Leschetizky and Bolesław Woytowicz, heir of the pure F. Chopin tradition, through Karol Mikuli, F. Chopin's pupil. Maria Szraiber's piano studies were completed at the famed P. Tchaykowsky Conservatory in Moscow where she worked under the guidance of Tatiana Nikolajeva and Rudolf Kerer, both well known representatives of the Russian school of piano playing.
Maria Szraiber has performed in concert halls throughout Poland and most of Europe, as well as in the United States, China, Japan, South Korea and Australia.
She has made many recordings. Playing the wide repertoire she is particularly associated with the music of Chopin and Debussy as well as with many works from the rich Polish piano  literature. Some of her concerts have been enriched by her own comments.
Maria Szraiber often gives concerts in the places connected with Fryderyk Chopin, like Żelazowa Wola, the place of his birth, under the composer's monument in the Łazienki Park in Warsaw and others.
In addition to performing Maria Szraiber loves to teach. She is a full professor at the Fryderyk Chopin University of Music in Warsaw where she was also elected dean of the Department of Piano, Harpsichord and Organ and was as well head of the Piano Chair.
For many years Maria Szraiber has been conducting master classes and giving lectures in Poland and abroad. She has sat on the jury of a number of piano competitions. In line with her interest in the history of piano playing she has been presenting a series of concert-lectures and reminiscences entitled "Nestors of Polish Piano Pianistics". As a result of the series a two volume publication appeared under the same title including biographies and reminiscences devoted to Zbigniew Drzewiecki, Jerzy Lefeld, Aleksander Michałowski, Stanisław Szpinalski, Józef Śmidowicz, Margerita Trombini-Kazuro, Józef Turczyński, Maria Wiłkomirska and Jerzy Żurawlew. The book, published also in English, is accompanied by CDs with the recordings of the presented pianists.
Maria Szraiber's  interest in teaching led her to prepare a large monograph On Educating the Artist-Performer at the College Level of Piano Studies (AMFC, Research Bulletin no. 44, Warsaw, 1999).
Studying and interpreting the literature for the piano as well as artistic activities of great composers are sources of inspiration for her writings and lectures. Here are a few examples:
The Waltz. The Road to Artistic Stylisation in the Work of F. Chopin – an article contributed to "Fuga" (2001 no. 4),
C. Debussy – composer of piano music and pianist (Gdańsk Music Academy, Research Bulletin "Piano Music", Gdańsk 2004);
Polish Piano Playing Tradition. The Leschetizky heritage in the rich history of Polish XXth century pianistics and piano pedagogy (Universität für Musik und darstellende Kunst, Wien 2006);
T.Leschetizky – great teacher of pianists (Gdańsk Music Academy, Research Bulletin "Piano Music", Gdańsk 2007);
lectures and comprehensive talks accompanying specially profiled concerts, e.g.:
o F. Chopin's waltzes – The peak achievement of artistic stylisation of dance;
o Polish pianists of international renown at the turn of the XXth century;
o Polish piano music in the Chopin circle (1999);
o Edward Grieg – composer, pianist, conductor (1997);
o Grażyna Bacewicz – the universal musician.
Maria Szraiber has always been deeply concerned about the organization of music education at all levels. During her long term as dean she launched various initiatives in the search for the optimal syllabus for music universities. She also serves as an expert advisor for the Ministry of National Education.
Kategoria: Maria Szraiber | Komentarze wył. »